We have very carefully structured the search and selection process which is proactive, featured and goal oriented. Our sophisticated techniques and procedures are designed to find and hire the best available talent.
A brief discussion of the different stages involved in the recruitment process.
Identifying The Hiring Need
When a vacancy is identified, it the responsibility of the sourcing manager to ascertain the position. The parameters should be evaluated before commencing recruitment. Proper identifying the needs leads to hiring of the right resource for the team and the organization.
Planning
Once we identified exactly what you need, then it's time to put a plan together to find what you need. The plan should include a timeline, recruitment plan, criteria for initial candidate screening, selection committee, interview questions, and instructions for taking notes.
Searching
Searching is the process of recruitment where the resources are sourced depending upon the requirement of the job. Source activation − Once the line manager verifies and permits the existence of the vacancy, the search for candidates starts.
Identifying Viable Candidates
Finding candidate is also not enough. An organization must also find qualified candidates. Anybody can find candidates. But searching for them, finding them, and identifying them will be more difficult if the first three steps in the process have not been undertaken.
Interviewing
Interviews are often considered the most crucial part of the recruitment process because this is the invaluable moment when you get to communicate with the candidate to see if he or she is a fit with the company.
Screening
Screening starts after completion of the process of sourcing the candidates. Screening is the process of filtering the applications of the candidates for further selection process.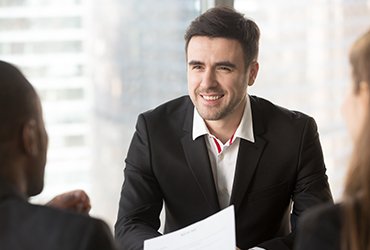 Recruiting Of A-level Candidates
Once viable candidates have been identified, they must be recruited. In other words, they must be sold on not only the opportunity, but also on the organization. Top candidates are not just interested in a great new job. They're interested in a great new job with a great new employer. Recruiting is a major facet of the recruitment process.
Offering Of Employment
Once all details have been confirmed, you can officially offer the job to the chosen candidate and draw up a contract of employment. There should be a template to follow for the contract where details such as salary, holidays, and working hours are further discussed accordingly.
On Boarding Of The Candidate
The last part of the recruitment process will be on boarding. This step is not always done by the HR department, but it should at least be arranged by the HR department because it will be the first point of contact for the new employee.